Notice of Public Hearing
Marin Transit will hold a public hearing on the Draft 2020-29 Short Range Transit Plan and a proposal to change Fare and Eligibility Policies.
The public hearing will be held before the Marin County Transit (Marin Transit) Board of Directors on Monday, January 13, 2020 at 9:30 a.m., at Marin County Civic Center, 3501 Civic Center Drive, Room 330, San Rafael, California. The purpose of this hearing is to have public discussion and receive comments from interested parties on the Draft 2020-2029 Short Range Transit Plan and Fare Policy in advance of the potential adoption by the Board of Directors at their February 3, 2020 Meeting.
Fare and Eligibility Policy Proposal
On Monday, November 18, Marin Transit's Board of Directors unanimously voted to kick off the public comment period for the proposal on fares and eligibility policies, which will include a public hearing on January 13, 2020.
Marin Transit staff have developed a proposal that includes changes to local bus fares, Catch-A-Ride, Dial-A-Ride, and paratransit fares, the reimbursement rate for STAR & TRIP volunteer driver programs, the Low-Income Fare Assistance program, and eligibility standards for Marin Access programs.
To learn more about the proposal and provide feedback, please visit https://marintransit.org/farepolicy2019.
Routes 22, 122, and 228 San Anselmo Hub Stop Change in December
Beginning December 8, a new stop at Sir Francis Drake & Bank St will be served by routes 22, 122, and 228. Route 22 and 122 buses serving this new stop will no longer serve the San Anselmo Hub. The new stop will improve travel times along the routes and speed up the trip for our passengers!  
Impacts vary by route. See information below for route specific impacts.
Route 22 (effective 12/8) will serve a new stop at Sir Francis Drake and Bank St and will no longer serve the San Anselmo Hub. Runtime adjustments have been made on select trips between the San Rafael Transit Center and Sir Francis Drake Blvd & Lagunitas Rd. All other times remain unchanged.
Route 49 Will Begin Service to the San Marin SMART Station in December
Beginning December 8, Marin Transit will serve the San Marin SMART station with the Route 49. All northbound trips will end at the San Marin SMART station and all southbound trips will begin at the San Marin SMART station. The Route 49 will connect SMART riders to downtown Novato, South Novato Blvd., and Ignacio/Hamilton.
Advisory Notice for Marin Access Paratransit and Catch-A-Ride Riders
Please be advised that potential PG&E Public Safety Power Shutoffs (PSPS) may impact Marin Access Paratransit and Catch-A-Ride Service. The planned duration and specific locations of possible shutoffs are unknown and will be determined by PG&E. All questions regarding PSPS events and extended outages should be directed to PG&E via their website and (866) 743-6589.
For those attempting to schedule trips, you may experience delays contacting our scheduling call centers.
For those with trips scheduled during the outages, you may experience service disruptions. Riders are advised to plan ahead and allow for extra travel time. Please verify that your destination has power prior to your pick-up time.
We will attempt to minimize impacts to the extent possible and appreciate your patience.
Heading to the Senior Fair? Take Marin Transit Connect for FREE!
Marin Transit is offering free on-demand Connect rides within northern San Rafael on October 23!
Simply download the Connect app on your smartphone to schedule your trip. If you don't have a smart phone, just call one of our Travel Navigators to register for an account and schedule your ride. Travel Navigators are available Monday – Friday from 8am to 5pm and can be reached at (415) 454-0902.
To redeem free rides use promo code SENIORFAIR.  
Visit connect.marintransit.org to learn more. Need more information? Watch this step by step video on Marin Transit Connect.
Take Marin Transit to School!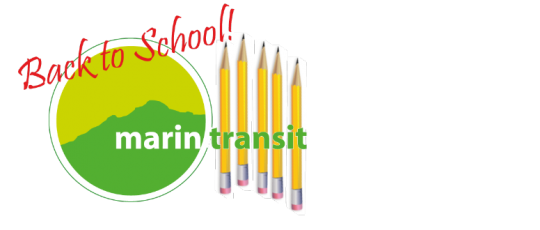 Marin Transit provides transit options for students countywide, including routes serving the College of Marin, Dominican University, and most high schools and middle schools in Marin County. Check out our schools page for more information!
Public Notice Disadvantaged Business Enterprise (DBE) Goal For Federal Fiscal Years 2020-2022
In accordance with regulations of the U.S. Department of Transportation (DOT), 49 CFR Part 26, Marin County Transit District announces its proposed goal over the following Fiscal Years 2020, 2021, and 2022 goal of 2% for DBE participation on contracts assisted by the Federal Transit Administration (FTA).
The proposed goal and its rationale are available for public review for the next 30 days during normal business hours from 8:30 a.m. to 5:00 p.m., Monday through Friday, at the offices of Marin County Transit District, 711 Grand Avenue, Suite 110 in San Rafael, CA 94901, and on our web page at www.marintransit.org/purchasing.html. 
Written comments will be accepted by Marin County Transit District and FTA for 30 days following publication of this notice.  The District's Federal Fiscal Year 2020-2022 goal may be adjusted by any comments received.
Interested parties are encouraged to submit comments to:
    Amy Van Doren, DBE Officer
    Marin County Transit District
    711 Grand Avenue, Suite 110
    San Rafael, CA 94901
Comments may also be submitted to the Federal Transit Administration, Region IX, Attention: Civil Rights Officer, San Francisco Federal Building, 90, 7th Street, Suite 15-300, San Francisco, CA 94103.
Free Fares During the Fair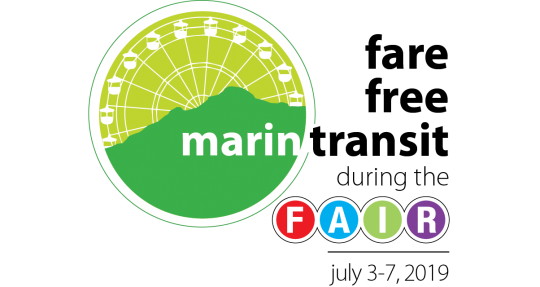 On Monday, May 6, 2019, the Marin Transit Board of Directors unanimously approved free local transit rides county-wide on all Marin Transit fixed route and Connect services during the five-day period between July 3 and July 7, 2019. They also approved an increase in bus service to the Marin County Fair to make getting to and from the County Fair more accessible.
Bus Stop Improvements Update - March 22, 2019
The contractor continues to make progress on completing the final phase of the State of Good Repair (SOGR) Bus Stop Improvements Project. Construction started in December 2018 on a series of upgrades to local bus stops to improve passenger amenities and Americans with Disabilities (ADA) access. The rainy weather pattern continues to impact the schedule for installing improvements.
This week (March 18-22) has been no exception with only two sunny days to schedule work. Next week doesn't offer much relief but we plan to use the time to focus on paperwork and coordination tasks. In spite of the inclement weather patterns, of the eleven bus stop locations across the county, the project has only two stops remaining:
Tiburon Blvd & Greenwood Cove Rd
Bellam Boulevard & E. Francisco Boulevard
We are counting on April gifting us with drier weather to install the planned improvements. The next update will share the poposed construction dates. If you have any questions about the project or construction activity, contact Adrienne Taylor at 415 226-0855 or ataylor@marintransit.org.