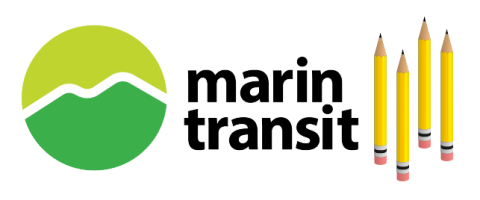 Marin Transit provides transit options for students countywide, including routes serving the College of Marin, Dominican University, and most high schools and middle schools in Marin County. Visit our schools page to find which route serves your school. Learn more about the different payment options available for students including cash, Youth Transit Pass or Clipper.
What's new for the 2023/24 school year? Routes 645 (Terra Linda HS) and 651 (San Jose MS/Novato HS/San Marin HS) will no longer operate this fall. Students at Terra Linda HS can take Route 35 from the Canal and destinations south of school and students to the north can take Route 57 or Route 245. Route 49 (Novato HS/San Marin HS) and Route 57 (San Jose MS/Novato HS), and Route 654 (Sinaloa MS/San Marin HS) continue to offer students in Novato a variety of transit options.
Students at Redwood HS will continue to have Route 613 (E. Corte Madera) and Route 619 (Tiburon/Belvedere) as transit options but will also have a redesigned Route 29 (Kenfield - Larkspur - Corte Madera) this fall.