Independence through Mobility
Marin Transit offers older adults and people with disabilities a variety of options for getting around without driving. Whether you need to learn how to ride the fixed route bus or sign up for an alternative transportation service, we are here to help.
Below is a summary of our Marin Access services. If you're not sure which one is right for you, use the Program Finder tool to the right. It will help you determine which transportation programs in Marin are available to suit your needs. If you have any questions along the way, contact one of our Travel Navigators at 415-454-0902 or travelnavigator@marintransit.org.
Program Finder
Discover your mobility options
Marin Access Services
Travel Navigators
Travel Navigators help older adults and people with disabilities understand the various transit options available to them and walk them through the process of becoming eligible. By phone, email, or in-person, this is a one-stop shop to help you get the most out of Marin Access.
Paratransit
Marin Access Paratransit provides pre-scheduled, door-to-door bus transportation in Marin County for people with disabilities who have been certified as unable to ride our fixed-route bus system either all or some of the time. With this service, riders who cannot access our general service routes can still maintain their freedom to travel around Marin.
Volunteer Driver
The STAR and TRIP volunteer driver programs empower older adults and people with disabilities to remain independent by providing a mileage reimbursement for their friends, neighbors, and other community members who provide them with rides. Travel Navigators are also available to provide referrals to community-based volunteer driver programs that match riders with drivers.
Marin Catch-A-Ride
The Catch-A-Ride program is an option that enables seniors age 80 and older, seniors between 60 and 80 who no longer drive, and paratransit eligible riders to take taxi rides at a discounted rate within Marin County.
Travel Training
Marin Access has developed several travel training options for Marin residents who want to learn about their choices for getting around without driving. We currently offer group presentations and one-on-one travel training aboard the bus. Click below to request a travel training and tell us more about your needs. 
Other Information
Marin Access Updates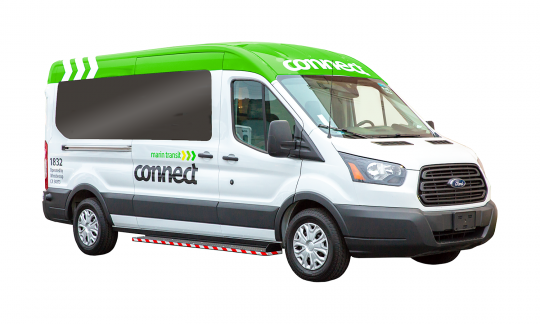 Mobility on demand is now available in Northern San Rafael. For the first time ever, Marin Transit is offering a completely accessible, on-demand transit option – no advanced planning required! Our new service, Marin Transit Connect, is now in operation weekdays from 7am - 7pm. Click here for more information and a link to download the app.
Effective March 5, 2018, Marin Transit is expanding the service area for Marin Access Paratransit to include the neighborhood of East San Rafael/Peacock Gap. Residents living in the East San Rafael/Peacock Gap area who qualify for paratransit service under the Americans with Disabilities Act (ADA) will be able to call one to seven days in advance of their requested trip and schedule a ride. The service will be available from 10 am to 2 pm and 4pm to 7 pm on weekdays. On weekends, the service will be available from 8 am to 5 pm.
Marin Access Winter 2017/18 Newsletter
Enjoy the Winter 2017/18 edition of our Marin Access newsletter. If you'd like to receive this in your inbox, subscribe to our email updates in the footer below.
This block is broken or missing. You may be missing content or you might need to enable the original module.
Upcoming Marin Access Meetings and Events
Contact us