In partnership with Marin Transit and other community agencies, the Marin County Health and Human Services Department, Division of Aging and Adult Services has sponsored the Marin Senior Mobility Action and Implementation Plan to identify measures that can be taken by Marin County and transportation agencies to support the mobility of the growing older population beyond their driving years. The Plan is a joint effort to keep older people safe and connected to their communities as problems related to aging make it harder for them to get around. The report, in two volumes, identifies the major gaps in transportation services to older adults in Marin County and develops specific strategies to close those gaps.
The first volume is the Existing Conditions Report, which looks at current and future demographics in Marin, describes the current state of senior transportation, presents examples of best practices in senior mobility, reports on outreach activities conducted as part of this project, and identifies transportation gaps in Marin.
The second volume, the "Action and Implementation Plan", discusses in detail strategies proposed to meet the transportation needs of older adults in Marin County, identified through the research and outreach conducted for this project.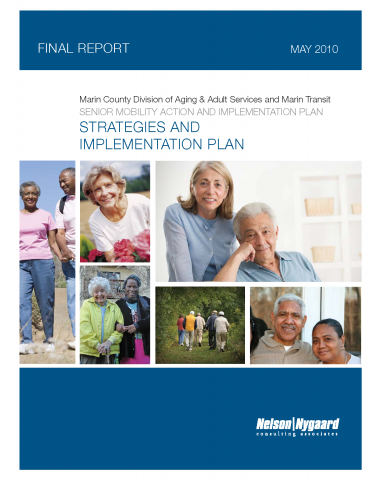 Project Documents
Upcoming Meetings & Events
There are currently no upcoming Advisory Committee Events
Past Meetings & Events
There are currently no upcoming Advisory Committee Events
News

Marin Transit is seeking feedback from all riders in the form of a short on-line survey. The information gathered through the survey will assist the District in the evaluation of our current fare assistance programs, and identification of the benefits, challenges, and implications of providing further reductions to our fares. Please take a few minutes and fill out the online survey and win a FREE Monthly Pass.
The survey is available in English and Spanish languages here: Marin Transit Customer Fare Payment Survey The survey will be open through June 2, 2021. We'd love your feedback!