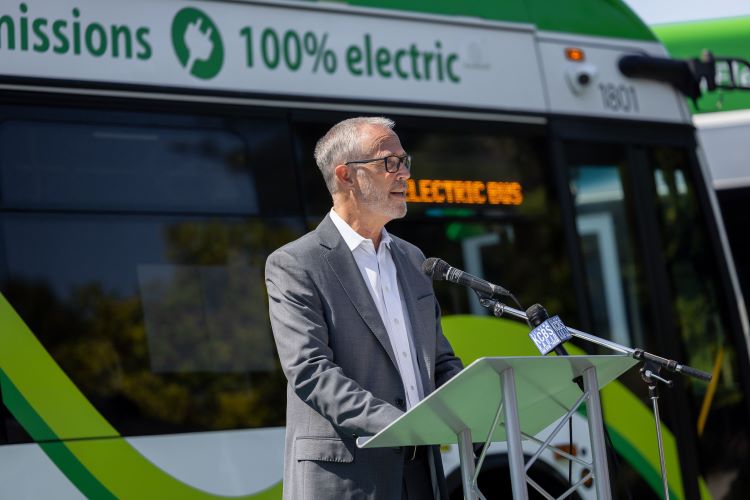 San Rafael, CA (July 24, 2023) – On Friday, July 21 U.S. Congressman Jared Huffman and Federal Transit Administration (FTA) Deputy Regional Administrator Amy Changchien visited Marin Transit to present the $31.5 million grant awarded to the agency funded through the Bipartisan Infrastructure Law to build a new electric transit bus facility. 
 "We made a promise to invest in America and rebuild our infrastructure to work better for everyday folks. Public transportation is a fundamental part of that equation, and these grants are going to help create a greener, more modern way to get people where they need to go," said Rep. Huffman. "Another huge benefit of electrifying our region's bus fleets is that every one of these clean electric buses is potentially a mobile generator to help communities respond to disasters and power outages. Clean energy is the future, and by investing in these buses we can supercharge our transition while improving lives, creating jobs, and reducing planet-killing emissions."  
"It's incredible to be here today to see the dream of rebuilding America's infrastructure becoming a reality here in Marin County," said Deputy Regional Administrator Changchien. "President Biden delivered the Bipartisan Infrastructure Law – a historic $1.2 trillion investment in America that will change people's lives for the better and get America moving again. With the authorized funding, FTA has awarded nearly $3.3 billion in funding from the Bipartisan Infrastructure Law over the past two years to invest in American buses and facilities to bring safer, newer, faster, and cleaner rides across the country.  The grant to Marin Transit is one of 130 awards in 2023, totaling nearly $1.7 billion for transit projects in 46 states and territories. It underscores the Biden Administration's commitment to sustainable and accessible public transportation and honors the work being done by Marin Transit to make public transportation clean, efficient, and accessible for everyone in Marin County." 
Marin Transit's award was the largest for California and signifies a momentous milestone in the Transit District's commitment to sustainable and accessible public transportation. "This generous funding will facilitate the construction of a bus maintenance facility and electric charging infrastructure for up to 40 buses, leading to improved efficiency, enhanced services, and a better experience for our community," said Nancy Whelan, Marin Transit General Manager. 
This is the single largest grant Marin Transit has received from FTA since its inception in 1964.  "Marin Transit's biggest need is for a centralized fixed route facility for maintenance, parking and charging fixed route buses. Investing in a District-owned facility will allow for continued investment in electric buses, improve operational efficiency and increase competition for contracted service, and reduce risk long term." stated Katie Rice, President of the Marin Transit Board of Directors.  
"We extend our heartfelt gratitude to Congressman Jared Huffman and Senators Dianne Feinstein and Alex Padilla for supporting our application. Thank you to Deputy Regional Administrator Changchien and your colleagues at the Federal Transit Administration for your confidence in our vision and support of clean and sustainable public transit," said Rice. 
Key highlights of the grant-funded project include: 
Purchase of a site and development of a state-of-the-art zero emission bus maintenance facility in Marin County. This dedicated site will consolidate several leased and contractor owned sites, creating operating efficiencies by reducing the miles buses travel to get to and from parking and maintenance locations. The new facility will stabilize the operation for many years to come. 
The new facility and yard will allow Marin Transit to continue converting its fleet to electric buses and to meet the state requirements for a fully zero emission fleet by 2040. By facilitating the transition to an electric fleet, the project will reduce carbon emissions from Marin Transit service operation by 28%. Although Marin Transit currently owns 6 electric buses, most of the fleet currently operates on renewable diesel fuel. The system's 2.6 million annual vehicle miles create a significant amount of carbon emissions. 
The project will increase service reliability. A consolidated transit vehicle parking and maintenance facility will make Marin Transit vehicle maintenance operations more efficient, resulting in fewer maintenance-related service disruptions. All vehicle maintenance personnel will be onsite at the same location, which will eliminate the need for buses and personnel to travel between facilities, which can cause delays.  
Workforce Development: The grant will also support the training and development of a new generation of maintenance workers, ensuring they have access to the latest industry knowledge and expertise. This investment in our employees will enable them to provide the highest level of service and maintenance to our bus fleet, contributing to a safer and more reliable public transportation system. 
"As we embark on this transformative project, we look forward to collaborating with our community stakeholders, elected officials, and transit partners to ensure that our transition to a GHG free system is successfully implemented," said Marin Transit Board President Katie Rice. "Together we will create a transit system that meets our community's needs and achieves our climate goals." 
CLICK HERE FOR HIGH-RESOLUTION PHOTOS AVAILABLE FOR DOWNLOAD 
About Marin Transit: 
Marin County Transit District (Marin Transit) was formed by a vote of the people of Marin County in 1964 and was given the responsibility for providing local transit service within Marin County. Marin Transit contracts with other providers, including Golden Gate Transit, Marin Airporter, and Transdev, for local bus and paratransit services. Marin Transit pays for services using Measure AA Funds, State Transportation Development Act Funds, fares, property taxes and Federal Section 5311 rural transit funds. 
###