Marin Transit Connect is your connection to work, home, transit, and other destinations across Marin County. Our service is entirely on-demand, and it operates anywhere in the service area shown below — not just at bus stops. Connect is part of Connect2Transit, an integrated program of mobility options within the Uber app brought to you in partnership with the Transportation Authority of Marin. 
To start riding, download the Uber app on your smartphone. Once you register, you'll be able to request a ride from any location—to any location—in the service area. You'll receive an estimated pickup time and we'll plan a convenient route to your destination in one of our Marin Transit Connect shuttle vans. You can track your ride in real-time with the Uber app, and you'll receive notifications about the ride via text message whether or not you use the app.
   Service Hours
Weekdays, 6:00 am - 7:00 pm. See Holiday calendar for service exceptions.
Additional expansion including longer hours and weekends will be explored and evaluated throughout the pilot program. 
   Reservations
Ride requests are made using the Uber app. Riders can download the Uber app using links above. Rides booked in the Uber app are completely on-demand. 
Riders can book a trip for up to two (2) total passengers with limited boarding capacity to maintain social distancing protocols. 
No Smartphone?
Call the Marin Access Information Line at 415-454-0902 to determine Marin Access eligibility or ask program questions. When you reach the phone tree, you may select "1" to talk to a Travel Navigator & learn about Connect or other Marin Access program or "5" to schedule a ride on Connect without a smartphone. Prescheduling is available for call-in riders without a smartphone.
The State of California has a program to assist with the cost of smart phones and service. Click here for more information. 
Download the Uber app at: 


   Fares
How much does it cost?
Fare

Cost

Regular Fare

*Price proposal is calculated by best optimized route at time of booking; rider will not pay more than price proposal.

flat per mile fee*

Marin Access Discount

*Call the Travel Navigators at 415-454-0902 to apply this discount.

$3 per ride*

Additional riders

$1 per rider
$3 flat fares are available for individuals eligible for Marin Access services. Additional riders cost $1 per rider.  Marin Transit may consider modifying the regular fare price over the course of the pilot program.
How do I pay?
Customers pay by credit/debit or prepaid credit card, which is entered when they set up an account on the Uber app using a smartphone or tablet. Pre-paid credit cards in the dollar amount of your choosing can be found at any local drugstore or grocery store. For customers who wish to book rides over the phone or do not have electronic payment access, please remember you will pay cash when you board the vehicle. 
  Current Service Area
The map below shows the service area including roughly 2.5 square miles from all Marin County SMART stations. This service area is effective July 1, 2020.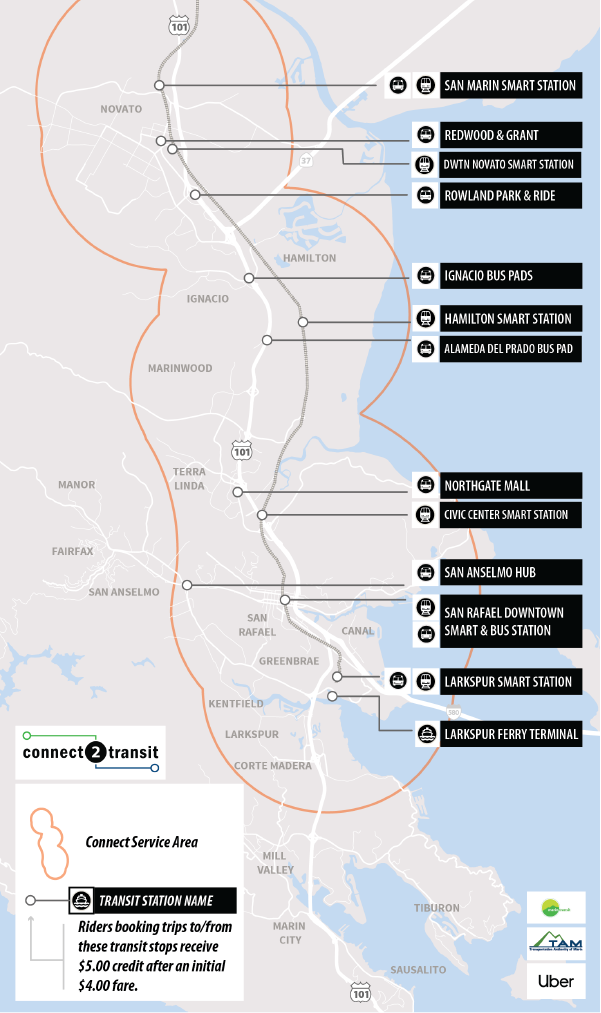 Vehicles
Marin Transit Connect will operate with a brand new fleet of accessible vans that can accommodate up to nine passengers or five passengers and two wheelchairs. The top of each van will be wrapped with a unique color to help riders identify their van driver. Connect vans are equipped with bike racks.
Tips for Riding
Visit www.connect2transit.com to learn about how Connect is now integrated in the Uber app with discounts from the Transportation Authority of Marin and real-time transit information.

The Transportation Authority of Marin offers a $5.00 discount on all Connect and shared UberPool rides to/from all SMART stations and major transit stops in Marin County. 

If you work in Marin County, take transit to work, and miss your last bus or train home, take advantage of the Emergency Ride program. This program allows you to get reimbursed up to $125 per trip (max of $500/year) to get home. There are no geographic limits to where you live so go ahead and book a LYFT, Uber, or taxi ride and submit your reimbursement form online. Go to www.tam.ca.gov/erh for more information.
More Information
Learn more about the Connect program by reviewing our Frequently Asked Questions or reading through our Board Items and Evaluations. 
Questions & Feedback
Contact us with any questions or feedback by emailing connect@marintransit.org or calling Customer Service at 415-455-2000.
Terms of Service
Use of Marin Transit Connect is bound by our Terms of Service