NOW AVAILABLE! 
Marin Transit Connect is your new connection to work, home, transit, and other destinations across Northern San Rafael. Our brand new service is entirely on-demand, and it operates anywhere in the service area shown below— not just at bus stops.
To start riding, download the Marin Transit Connect app on your smartphone. Once you register, you'll be able to request a ride from any location—to any location—in the service area. We'll give you an estimated pickup time and plan a convenient route to your destination in one of our Marin Transit Connect shuttle vans. You can track your ride in-real time with the app, and you'll receive text message notifications about the ride whether or not you use the app.


**Download today and get your first ride for free!! Enter Promo Code: FIRSTRIDE
   Service Hours
Weekdays, 6:20 am - 7:00 pm. See Holiday calendar for service exceptions.
Additional expansion including longer hours and weekends will be explored and evaluated during the first year of service. 
   Reservations
Ride requests are made using the app. Riders can download the Marin Transit Connect app powered by Via's technology on their smartphone from either the Apple App Store or the Google Play Store.
Riders can book a trip for up to five (5) total passengers. Just tap the + passengers icon to add riders to your trip.
If you do not have a smartphone, you can call the Marin Access Information Line at 415-454-0902 to set up an account or schedule a ride. When you reach the phone tree, you may select "2" to set up an account or "4" to schedule a ride.
   Fares
How much does it cost?
Fare

Cost

Regular Fare

$4 per seat

Marin Access Discount

*Call the Travel Navigators at 415-454-0902 to apply this discount

$2 per seat

Transit Stop Discount

$2 per seat

Monthly unlimited

$40 per month
To start, regular rides will cost $4 per seat. 50% discounts are available for individuals eligible for Marin Access services or passengers riding to or from a transit stop? Per rider charges also decrease as your party increases. For example, a regular priced trip for two riders is $8, but the third is $3 more, the fourth is $2 more and all additional are only $1 more. The graphic below shows how this applies.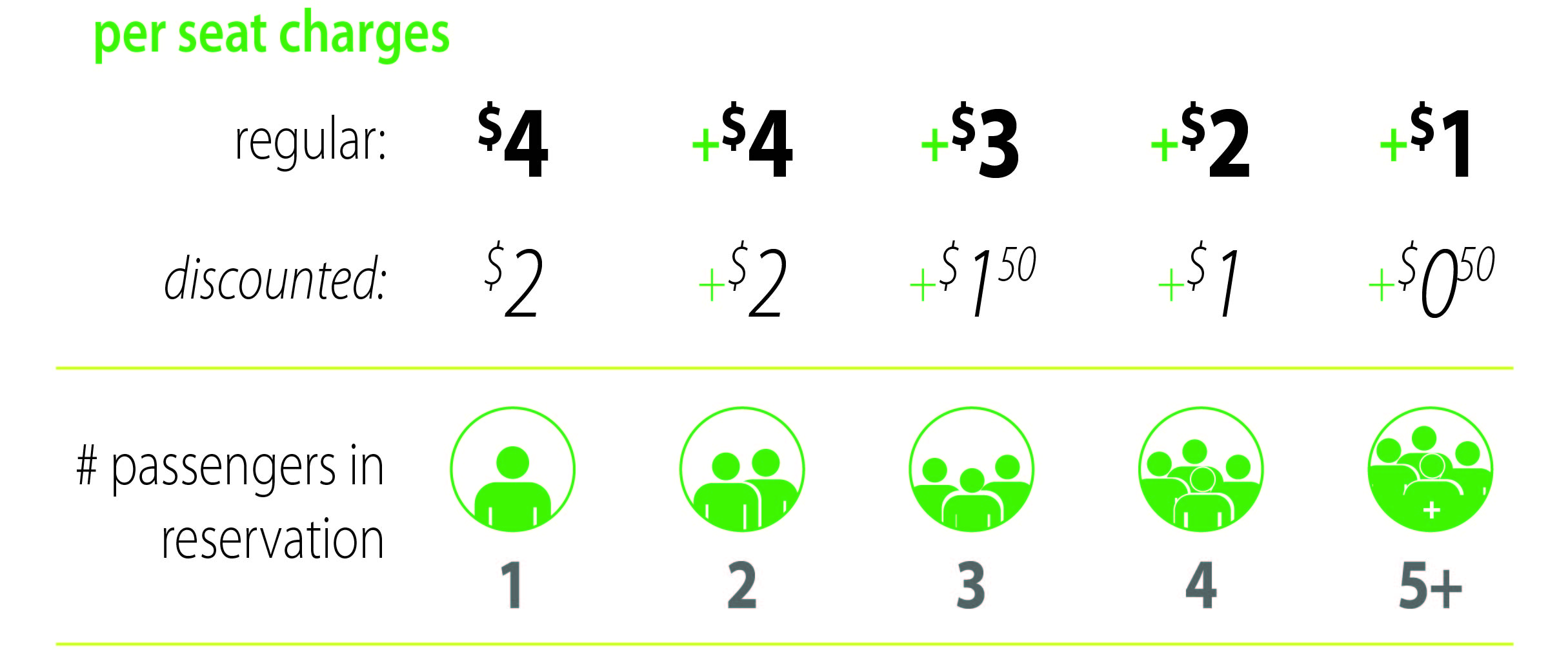 If you plan to ride frequently, you can purchase an unlimited monthly pass for $40, activated at the time of your first ride. Based on customer feedback and use, Marin Transit may consider modifying the regular fare price over the course of the 1-Year Pilot program.
How do I pay?
Customers pay by credit/debit or prepaid credit card, which is entered when they set up an account on the Marin Transit Connect app using a smartphone or tablet. For customers who wish to book rides over the phone, please call the Marin Access Information Line at 415-454-0902 to arrange to have an account set up.
Marin Transit Connect is a cashless service. Don't have a credit card? Use your cash to purchase a pre-paid credit card in the dollar amount of your choosing at any local drugstore or grocery store. Note that re-loadable cards are preferable because they can be refilled when empty without requiring the purchase of a new card. Once you have a prepaid credit card, you can set up an account on a smartphone or tablet, or by calling the Marin Access Information Line at 415-454-0902.
  Service Area
The map below shows the service area that includes areas of Northern San Rafael stretching North to South from Smith Ranch Road to North San Pedro Road and East to West from Gallinas Creek/Osher Marin to the western edge of Terra Linda.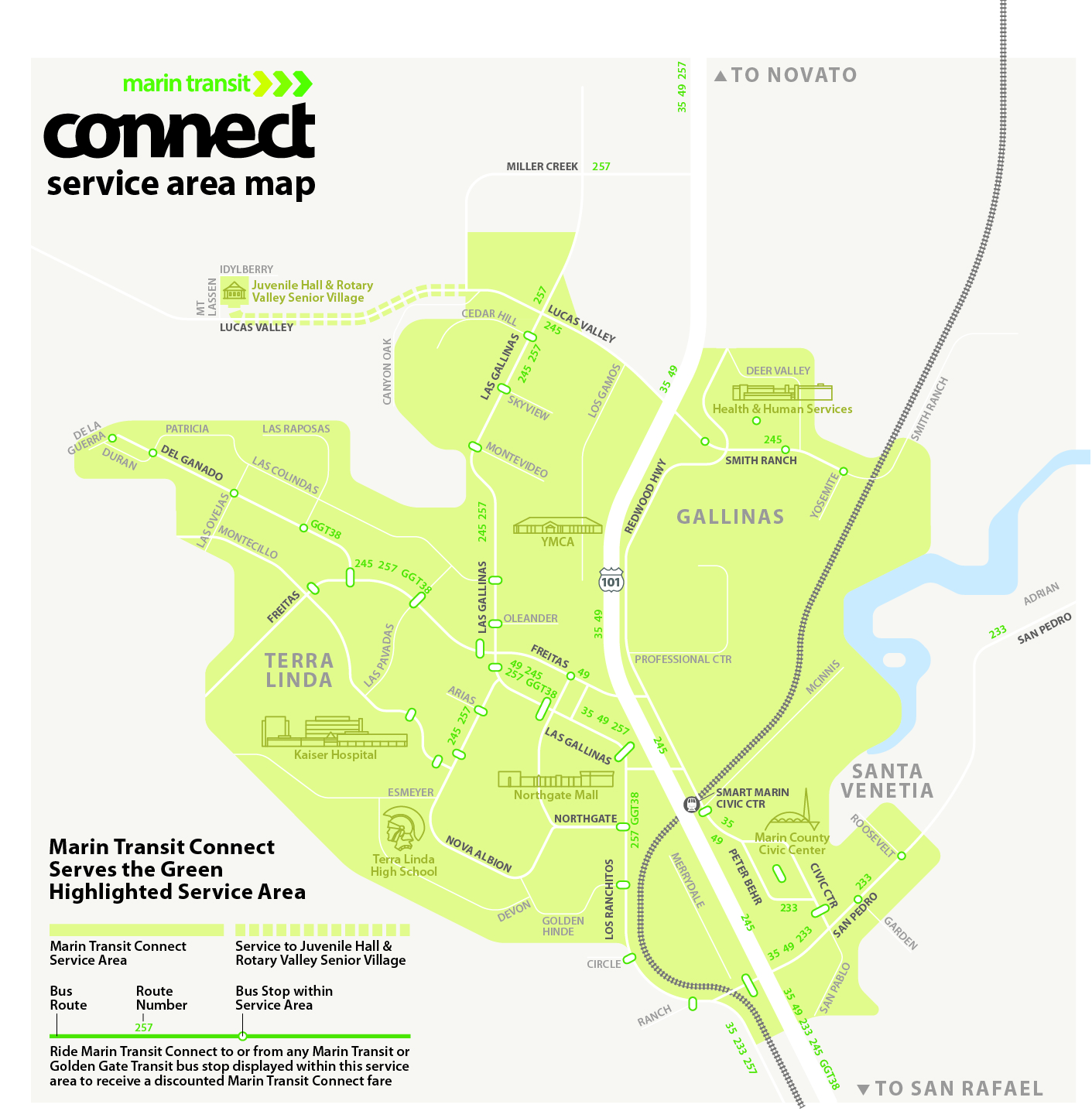 Vehicles
Marin Transit Connect will operate with a brand new fleet of accessible vans that can accommodate up to seven passengers or five passengers and one wheelchair. The top of each van will be wrapped with a unique color to help riders identify their van driver.  Riders using wheelchairs can enter Promo Code "ACCESS" in the app to provide drivers with advanced notice they will need assistance boarding.
Customer Feedback
You may provide feedback in the app by selecting the 'Contact Marin Transit' icon in the menu, emailing us at connect@marintransit.org, or calling Customer Service at 415-455-2000.
Terms of Service
Use of Marin Transit Connect is bound by our Terms of Service