Novato Dial-A-Ride is designed to fill gaps in Novato's local transit service and provide additional service.
You can use the dial-a-ride service to make a complete trip within Novato or connect to fixed route transit service for travel outside of Novato.
Novato Dial-A-Ride provides passengers curb-to-curb pick-up and drop-off service. To use the service you must schedule your trip by calling 415-454-0902. All trips must start and end within the Service Area. The bus will make stops at any safe location within the eligible service area. Everyone is welcome to use this service.
Service Hours
Weekdays
7:00 am - 11:00 am
3:00 pm - 6:00 pm
Tuesdays Only
1:00 pm - 3:00 pm
Novato Human Needs Food Pantry Shuttle
Wednesdays Only
11:00 am - 2:00 pm
Margaret Todd Midday Service
Weekends
8:30 am - 5:00 pm
Holidays
No service on New Year's Day, Presidents' Day, Memorial Day, Independence Day, Labor Day, Thanksgiving Day, and Christmas Day
Reservations
Reservations are required and can be made by calling 415-454-0902. Reservations can be made up to seven days in advance. Same day reservations are accepted if space is available.
Fares
One-way fares for the general public are $4 and $2 for youth, seniors and persons with disabilities. Local passes are accepted. Vehicles are not equipped with Clipper.
Service Area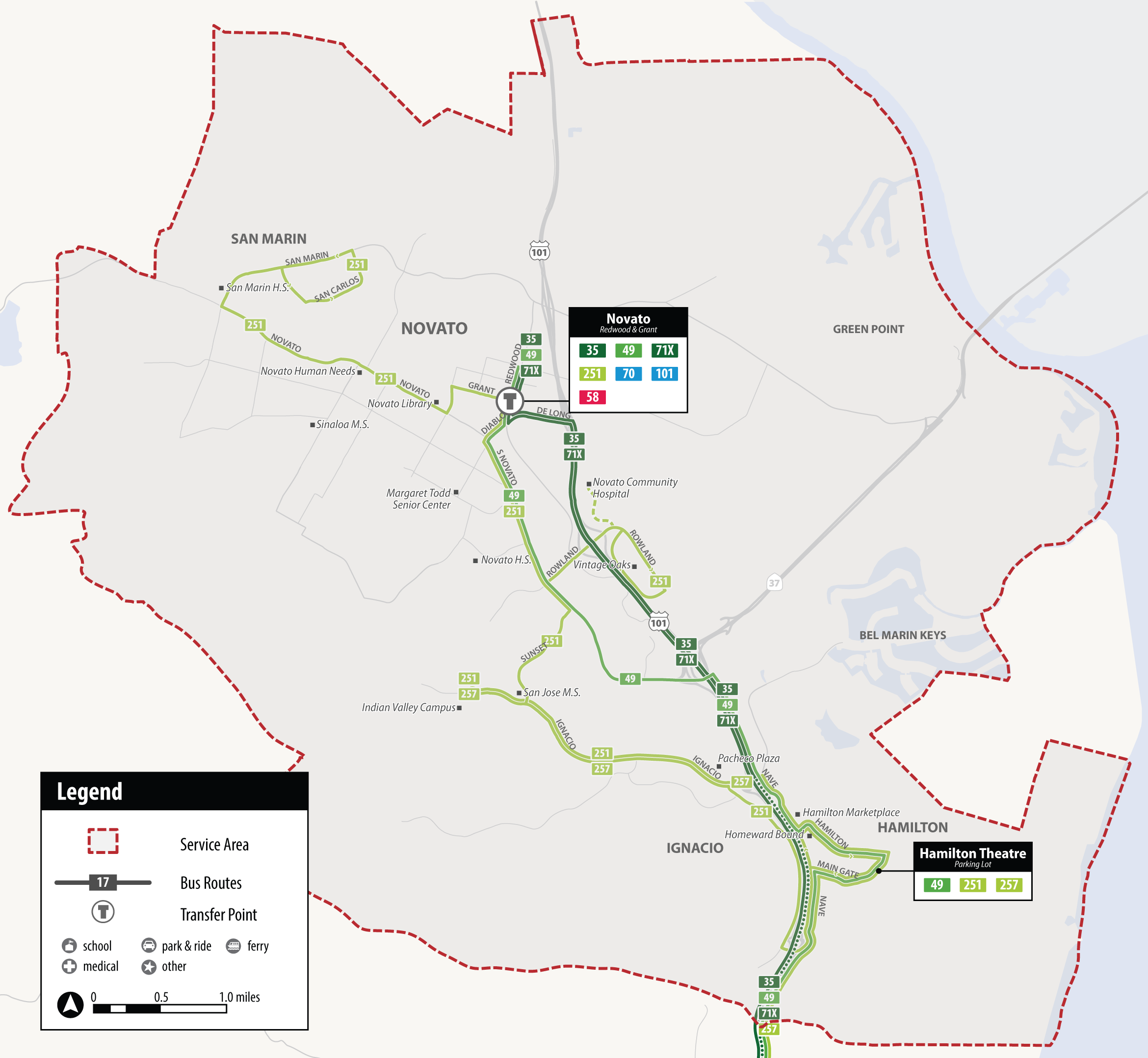 Transfers
Transfers from Marin Transit and Golden Gate Transit service are accepted on the Dial-A-Ride vehicles by showing driver valid transfer. Passengers can make free transfers to Marin Transit fixed route services.