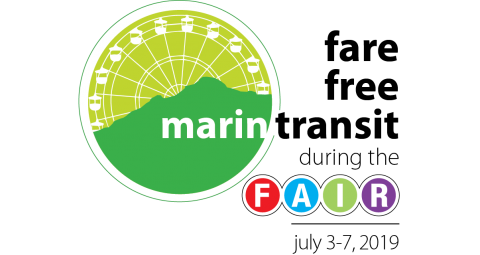 On Monday, May 6, 2019, the Marin Transit Board of Directors unanimously approved free local transit rides county-wide on all Marin Transit fixed route and Connect services during the five-day period between July 3 and July 7, 2019. They also approved an increase in bus service to the Marin County Fair to make getting to and from the County Fair more accessible.
This innovative promotional campaign is designed to encourage Marin County residents and their families to take transit to the Fair and throughout the county during the holiday weekend. As parking prices at the fair have gone up and congestion continues to be a challenge, additional local transit access will improve the experience for fairgoers. The estimated cost of the promotion is $49,500, which includes the cost of added service, the anticipated loss in fare revenue, and administrative support.
"Taking transit to the Fair reduces the hassle and the expense of parking, and helps the environment as well," said Marin Transit Board President Damon Connolly. "We want to thank our current riders as well as encourage new riders by making all Marin Transit rides free during the long holiday weekend."
In addition to making transit service free throughout the county from July 3-7, Marin Transit plans to boost service and expand hours later into the evening on routes serving the Fairgrounds. Marin Transit Connect, an app-based accessible shuttle service, will also operate daily during the five days of the Fair to provide on-demand service for adjacent neighborhoods within Northern San Rafael.
"I'm excited to take Marin Transit to the Fair," said Marin Transit Board Member Judy Arnold. "I encourage residents to explore Marin over the long holiday weekend whether you are going to the Fair to see the pig races and fireworks or going to Stinson Beach to catch some waves."
Paratransit, Catch-A-Ride, and Muir Woods Shuttle service would be exempt from the free fare offerings.
More information can be found at marintransit.org/fair.