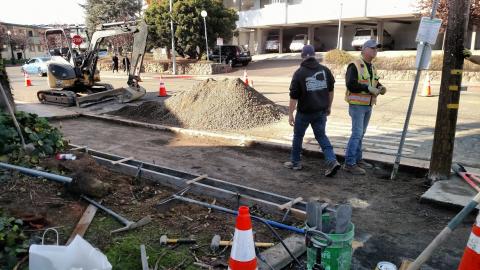 Construction has been underway since December 3, 2018 for the final phase of the State of Good Repair (SOGR) Bus Stop Improvements Project. Crews have been installing upgrades to local bus stops that improve passenger amenities and Americans with Disabilities (ADA) access. However, the stormy weather has significantly impaced the schedule initially anticipated to construct improvements at eleven bus stop locations across the county.
The raindrops just keep falling and all too frequently construction has come to a complete halt. But we did get a much-needed break last week when crews were able to demo and pour concrete at Magnolia & Bon Air (Stop ID 40302) and Redhill & Sequoia (Stop ID 40409).
This week (February 25 - March 1), the gift of dry weather yesterday and today allowed the contractor to install bus shelters at both locations. With work now finished at these two stops the number of complete bus stops has grown to seven:
Mission Avenue & Mary Street
Canal Street & Medway Road
Lincoln Avenue & Grand Avenue
Los Ranchitos Road & Golden Hinde Boulevard
Manuel T Freitas Parkway & Del Ganado Road
Red Hill Avenue & Sequoia Drive
Magnolia Avenue & Bon Air Road
In addition, crews have mostly finished the modifications to the Redwood & Grant facility but replacing the graffiti damaged panels requires a series of moisture-free days. With rain dominating the forecast for next week, it is not likely crews will be able to schedule the glass replacement installation. However, the weather for the week of March 11-15 looks promising and drier field conditions might allow this work to finally be completed.
In addition, once the rain subsides, work on the three remaining bus stop locations can get underway.
Tiburon Blvd & Greenwood Cove Rd
Tamalpais Drive & Madera Boulevard
Bellam Boulevard & E. Francisco Boulevard
Hopefully, weather permitting, the next update will have more details about the plan to finish the SOGR Bus Stop Improvements Project. If you have any questions about the project or the construction activity, contact Adrienne Taylor at 415-226-0855 or ataylor@marintransit.org.