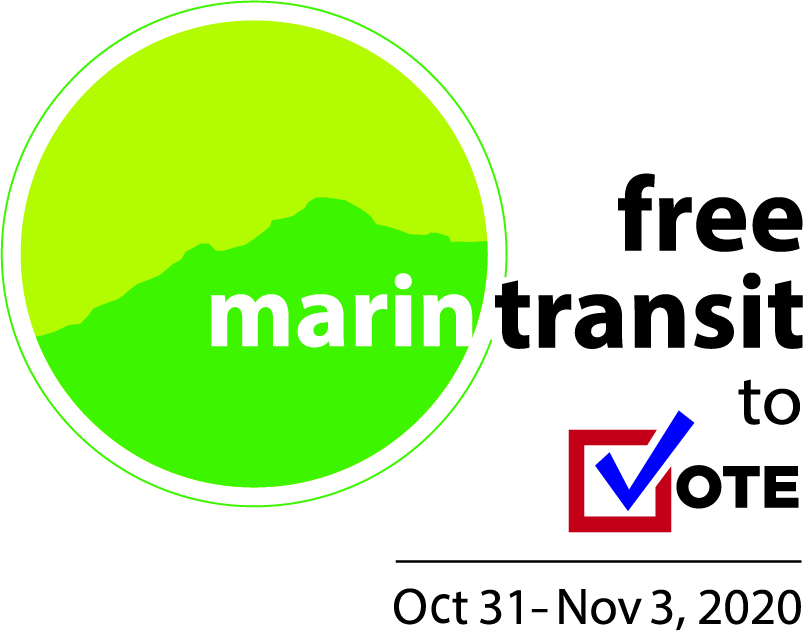 On Monday, October 5, Marin Transit's Board of Directors unanimously approved free local transit rides county-wide on all fixed routes during the upcoming 2020 General Election.
This promotional campaign offers voters a free transportation option to the polls. The free fare days will provide a touchless boarding process without the need to navigate fare payment, minimize interaction between riders and drivers, and reduce boarding times at bus stops. Free fares will also eliminate a potential cost barrier for riders and provide an additional incentive for voters to take public transit to polling places.
All Marin Transit local routes, supplemental routes, and the West Marin Stagecoach will be fare free from October 31 through November 3, 2020. Demand response services including paratransit, Catch-A-Ride, Dial-A-Ride, and Connect will be exempt from the free fare offerings.
For more information on polling places and drop box locations visit: County of Marin Elections
Plan Your Vote!
Marin Transit is committed to keeping you safe during the COVID-19 pandemic, and has implemented enhanced cleaning protocols and additional measures to limit disease transmission. To adhere to physical distancing guidance onboard vehicles, Marin Transit drivers will limit number of passengers onboard at any given time.
Plan your vote to allow for additional wait time and minimize impacts associated with potential pass-ups.
Need help finding your polling place? Visit: County of Marin Voter Information Portal
Use our handy trip planner tool, to plan your trip to the polls or drop box locations.                                                                                          
Transit To Vote selfie contest
Take transit to cast your ballot and enter our Transit To Vote selfie contest for a chance to win a free Monthly Pass!
Post your "I voted" selfie and tag @MarinTransit between now and Election Day on November 3. Be sure to include the bus, and "I voted" sticker.